The East Central Ohio ESC has several facilities available to our school districts and partner agencies.  Below you will find information on each of the rooms.  Reservations can be completed using the FMX system.  You must register for an account and reserve your room at: https://ecoesc.gofmx.com
ECO New Philadelphia
Small Conference Room
The small conference room features 9 tables and 18 chairs for participants.  The room is equipped with a 65″ touch-enabled television running Windows 10 and offers the ability to use the built-in Windows 10 computer or you can attach your own laptop as a secondary display with an HDMI cable.  The 65″ television does provide ample audio for participants in this room.  This room also features dimmable lighting.  This room has a removable partition and can be combined with the Main Conference Room for larger meetings.
Governing Board Room
The governing board room features a U-shaped table with 9 chairs around the perimeter.  The room is equipped with a 32″ television on a cart with a shelf for a laptop computer and a Google Chromecast.
ECO St. Clairsville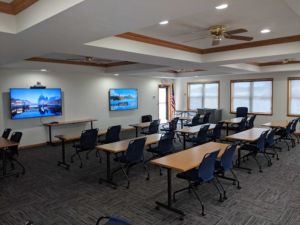 Conference Room
This conference room features seating for up to ## people with a total of # tables. The front of the room is equipped with two 75″ televisions that are mirrored to display your laptop output.  The room is also equipped with a PolyCom Group 500 series to allow for video conferencing and a cart with 19 laptop computers.