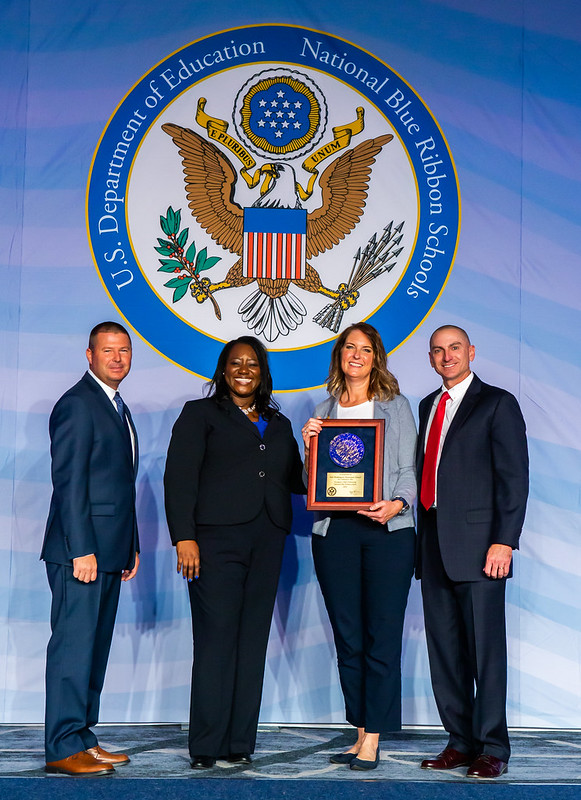 Port Washington Elementary School Receives National Blue Ribbon School Award
Port Washington Elementary School of the Indian Valley Local Schools was once again named a National Blue Ribbon School this past September.  The school, educating students from kindergarten to fifth grade, was recognized as a 2022 Exemplary High Performing School based on its overall academic performance.  District teachers and administrators traveled to Washington, D.C. on November 4 to accept the award.
Port Washington Elementary School is one of only 13 schools recognized this year in Ohio and of the 297 schools nationwide.  There was a committee of seven teachers and three administrators that worked on the award application.  The school previously received this award in 2003.
"It was a true honor and privilege to represent our students, staff and families at the 2022 National Blue Ribbon Awards Ceremony in Washington D.C.," said Mr. Troy Page, Principal, Port Washington Elementary School.  "All of the hard work and dedication that each of these groups puts forth everyday is what makes Port Washington Elementary so special.  I'm extremely blessed to work with such terrific students, staff and families and am thrilled they have been recognized for doing what they do."
"It is not exceedingly common to have a school earn the designation multiple times," added Dr. Ira Wentworth, Superintendent, Indian Valley Local Schools.  "I believe it's indicative of the culture that the teachers have established at Port Washington for years. They have established a culture of high expectations for student learning and they work at any cost to make sure students have the support they need to achieve at high levels."
In the school's application, they wrote, "Community members, parents, visitors and students who enter this exceptional building often tell staff that the school emits a feeling of family. Indeed, this is our secret ingredient. That something extraordinary ― so vital to the students and staff who thrive here." Page made the announcement to the students and staff at a school assembly and presented on the recognition to the Indian Valley Board of Education at its November 21, 2022 regular meeting.